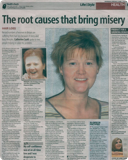 For almost a decade Julie Brodigan battled the devastating effects of alopecia. As her hair fell out and became rapidly thinner, Julie's self-confidence disappeared and she spent hundreds of pounds on special shampoos and other treatments to try to cure the embarrassing condition.
Following a kidney transplant operation 10 years ago, Julie was diagnosed with alopecia, a condition that a shocking one in four women suffers from at some stage in their lives. The disease was brought on by organ rejection drugs following her operation and doctors told her it was a common side-effect about which she could do very little.
The married mum of one said: "I've always had very thin hair, but I panicked when I noticed it was starting to fall out about a year after my operation.
"Family holidays were particularly hard for me as you're supposed to be able to relax and enjoy yourself – but I felt really self-conscious and had to cover my head most of the time to prevent my scalp from being burnt by the sun."
Julie tried a number of methods to thicken her hair including special shampoos, hair dyes and other expensive, ineffective products. She continues: "Over a total of nine years, I must have spent hundreds of pounds on products as I was so desperate to grow new hair and make my hair thicker and fuller.
"My self-confidence was at an all-time low during this period and I was desperate to find a remedy for my hair loss, so I tried absolutely anything to help it grow back."
After reading through the local paper one day, she came across an advert for The Alopecia Clinic in Mexborough and, as a last resort, decided to call. The Alopecia Clinic was established by Andrew McCarthy who underwent hair replacement treatment after being diagnosed with alopecia as a teenager.
Andrew, who opened The Alopecia Clinic in 2005, said: "I decided to start the clinic after suffering from the condition myself. I thought there was no cure for hair loss, as do many of my clients when they come through my door for the first time and the market is saturated with dud treatments and bad advice as to what is available to sufferers.
"I see my role as being a dual one. Firstly, in a professional capacity I advise on and administer the latest technological advancements and treatments for alopecia. Secondly, and just as importantly, I try to be a supportive figure for clients who have often been deeply psychologically affected by their condition, and find it difficult to discuss even with those closest to them. There are many options available to alopecia sufferers and, following an individual hair analysis, I'm able to find out the root cause of the hair loss. Depending on this, I'll then decide on a suitable course of action and suggest one, or a combination of, various treatments we have available."
After an initial consultation with Julie, and having carried out an in-depth hair analysis, Andy advised that she would benefit from laser re-growth treatment. So far she has spent 1,800 and is pleased with the results. "My hairdresser has noticed my thicker hair and I've even been able to have highlights, whereas before, my hair was too weak to take them."
The problem of alopecia is far more prevalent than many people realise and can affect either sex. Two-thirds of men suffer from some form of baldness while one in every four women will be affected by hair loss at some stage in their lives. Causes of hair loss can be attributed to the side-effects of medication or anything from genetic influences or nutritional problems, to hormonal imbalances, psychological trauma or previous illness.