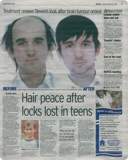 Steven Ashton was 15 years-old when he began to suffer epileptic attacks – and doctors uncovered a large tumour deeply-embedded in his brain.
The Rotherham teenager, who was studying for his GCSEs, underwent two major operations to remove 25 per cent of the benign tumour, followed by 13 sessions of radiotherapy. He began to recover but his hairline began receding rapidly and he was left with just half a head of hair.
Coming to terms with his illness and the dramatic change in appearance was very tough for Steven, now 20, who hated stares and comments from customers at the supermarket where he worked. But thanks to a 'hair replacement' system – far more realistic than a wig – he now has a full head of hair and is enjoying life again.
Steven said: "Like anyone, my hair is a big part of my look. I've been into American Punk music for years, and I used to love going to gigs and styling my hair like my favourite bands.
"When my hair fell out, I felt like that part of my personality had been affected too. I had to wear hats whenever I went out and couldn't jump around at gigs anymore or have as much fun with my friends as I used to."
Steven went to The Alopecia Clinic, in Mexborough, run by Andrew McCarthy.
He who had undergone hair replacement treatment in America, before deciding to open a clinic in the UK to help men and women experiencing hair loss or alopecia. Steven said: "Speaking to Andrew the first time I met him, I couldn't believe that he'd lost a lot of his hair in his teens. I couldn't even tell that his hair wasn't his own, it looked so natural. Immediately I started to feel hopeful that he might be able to help me too."
Steven was fitted with a system costing 1,250, which works with human hair being singularly attached to a lace or polythene mesh which is then grafted to the scalp.
Andrew said: "My clients experience hair loss or alopecia for a number of reasons. I've been able to help lots of people get their confidence back by restoring their hair; it's so fulfilling to help young people like Steven in particular."
Steven said: "All of a sudden I had this amazing long hair, exactly matching my own hair. I hadn't had a full head of hair in four years and couldn't wait to try out new styles."
Steven's system will last up to three years before he needs a replacement. He now sports a spiky, youthful hair cut that he is thrilled with. He can go swimming, play sports and wash his hair as normal, and no longer holds back at music gigs.
He has also started a counselling and psychology qualification at his local college: "After being quite a shy person, which was made worse as a result of my hair loss, I wanted to start afresh and help people deal with difficulties in their own lives," he said.